Nobody Does Mardi Gras Like Macadoodles!
Get ready for Mardi Gras with Macadoodles!
Mardi Gras is next Tuesday, so stop by Macadoodles before your celebration to enjoy our incredible selection and deals!
Strawberry Jalapeno Mint Julep
Yield: 1 serving
Ingredients:
Simple Syrup
1/2 cup water
1/2 cup sugar
2 whole jalapenos, halved
Additional Ingredients
1/4 cup chopped strawberries
8 fresh mint leaves
2 oz. bourbon
Ice1 (12 oz.) can seltzer
Red jalapeno, sliced for garnish
Directions:
In a small saucepan, over medium heat, combine water, sugar and jalapenos to make simple syrup.
Bring to a boil, then reduce heat and simmer ten minutes.
Remove from heat and let cool to room temperature.
In a cocktail glass, muddle strawberries and mint.
Add bourbon and one tablespoon simple syrup.
Fill with ice and top off with seltzer.
Garnish with mint, a strawberry and red jalapeno slices.
*Recipe courtesy of liquor.com
This Week's Specials
*Prices good for a limited time. Tax not included.  
For a complete list, visit Macadoodles on Facebook.  
WINES
Conundrum red blend- $19.98
Kendall Jackson chardonnay- $11.98
Menage A Trois red blend- $7.98
Gnarly Head cabernet- $7.98
Butter chardonnay- $14.98
Ck Mondavi, 1.5L- $7.98
Velvet Devil merlot- $9.98
Kung Fu Girl riesling- $9.98
Bonanza cabernet- $19.98
Josh cabernet- $12.94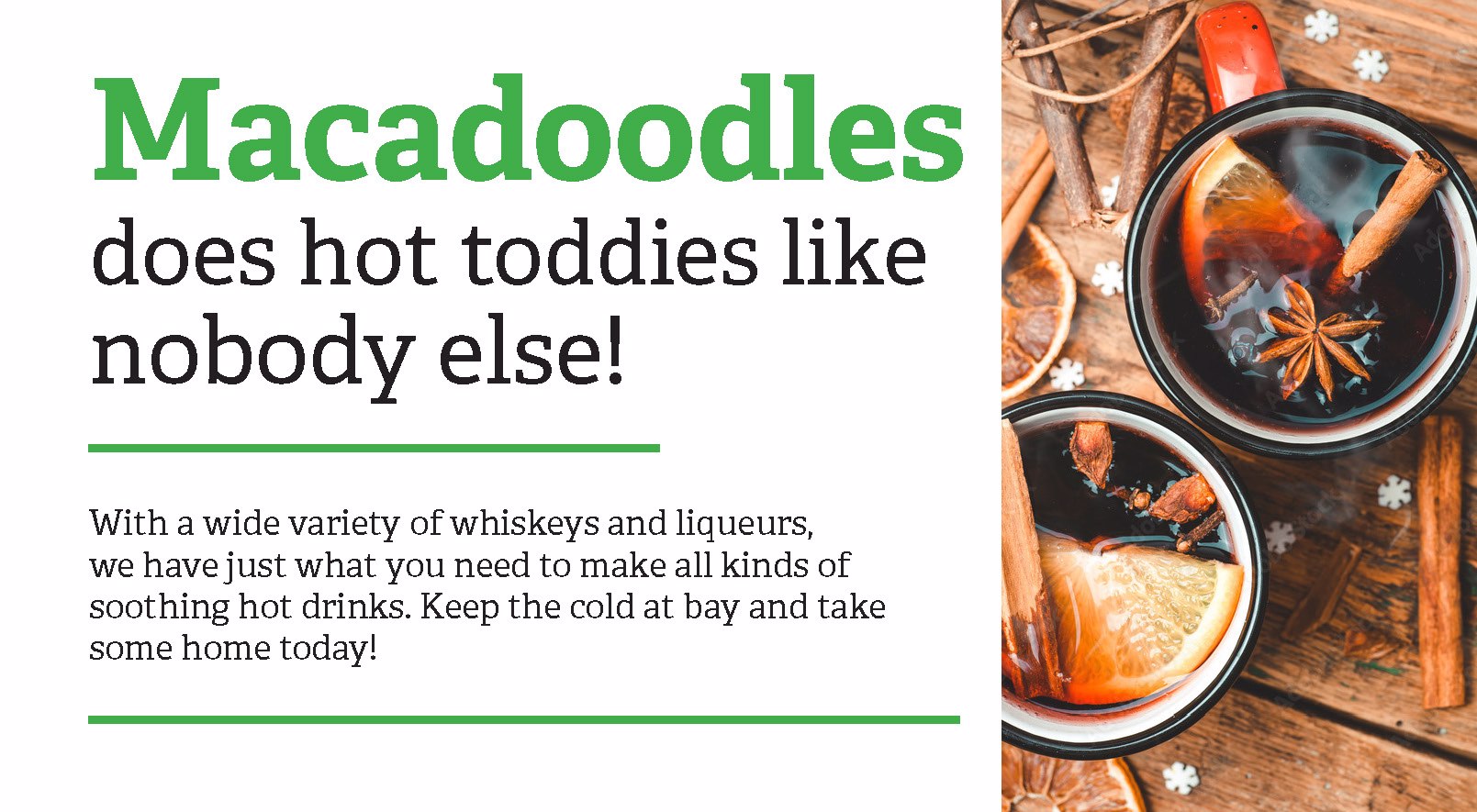 We want to know more about you and the products you love. Telling us about what you like will help us get you the best deals and access to new products.